New Century of Business Needs
New Customers – Search
Existing Customers – Save
Customers Management – Synchronize
Quote by: John Andy, the management GURU in Europh, 2006
Expanding Value, Building Loyalty
In Touch with your customers (Communicate, thank you them
Let them know, you are still around, Let them know, your new products & services
Listen to your customers (Create chances for them to complaint or praise (Is better then, they don't talk to you)
Let the customers know, you care for them. -Remember them (birthdays, greeting, theirs product recycle periods, special promotion for them only, upgrade services, special free voucher, discount voucher…)
Supply Chain Management – Timely, Short & Accurate
Internal – Meeting Reminder, Short Memo, Reminder, Notice, Short Info.etc
Suppliers – quotation request, Info. Request, Price Up date, logistic Info, short coordination notice.etc
Dealers – Price up date, New Products and Services up date, announcements, credit reminder. Etc
SmartSMS PROFESSIONAL, give you the solution to expanding business value and building customers loyalty
SmartSMS PROFESSIONAL is targeted to companies or individuals who want to broadcast SMS in bulk and would want to have a dedicated channel to be in contact with the customers or others via SMS. It is like Microsoft Outlook to email; SmartSMS is designed to apply the same concept to SMS messages.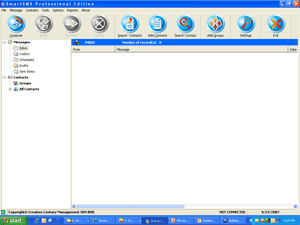 User friendliness Interface, similar to Mircosoft outlook. "Outlook send email, where people need to connect online and read, SmartSMS via computer send sms where people received SMS immediately with their mobile phone"

SMS Composer: This enables you to write new messages which connect directly to the contact list for ease of use. SMARTSMS PRO is able to send multiple users and multiple SMS. Messages are queued and sent by the sequence.
SMS Template & Signature: SMARTSMS PRO provides own make template & signature in SMS Composer to enables easy composition of SMS. This provides convenience when you need to send the same messages over and over. Template & Signature can be create according to business needs.
SMS Scheduer: SMARTSMS PRO has the ability to respond to scheduling SMS request by users. Schedule of tasks may be done hourly, daily, weekly or monthly.