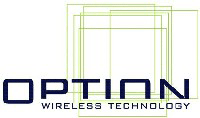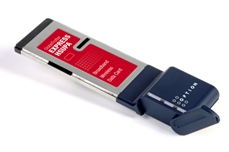 GlobeTrotter Express HSUPA 7.2
Support: HSUPA 7.2 + HSDPA + 3G + Edge + GPRS
Mobile Highspeed Surfing via Express Card
- Wireless DSL-like speed: downloads up to 7.2 Mbps, uploads up to 2 Mbps
- Future-proof slim-line ExpressCard design (34 mm width)
- Worldwide connectivity by Multi-standard (HSUPA, HSDPA, UMTS, EDGE and GPRS) and Multi-band support
- Faster and more stable connectivity with two antennas and Advanced Receiver Technology
- Plug 'n Play through Zero-CDTM technology
- Compatibility assured with legacy PC's: optional Compact Cardbus-ExpressCard Converter
About GlobeTrotter EXPRESS HSUPA
| | |
| --- | --- |
| | The GlobeTrotter Express HSUPA gives you the latest technology with Option´s proven performance and reliability in the new ExpressCard/34 format. Within its compact form we provide a multi-band, multi-technology receiver offering the best upload and download speeds available today. |
The GlobeTrotter Express HSUPA is designed to achieve peak HSDPA download speeds of 7.2 Mbps with HSUPA uploads approaching 2 Mbps. HSPA (HSDPA and HSUPA combined) is an essential technology for today´s enlarged media environment. Backward compatibility ensures HSDPA connections at lower data rates of 3.6 Mbps and 1.8 Mbps with upload speeds to 384 Kbps. The wireless data card also has inherent support for UMTS operation at 384 Kbps in conjunction with quad-band EDGE and GPRS.

Option´s unique fold-out antenna increases reliability in weak signal areas and is part of our Advanced Receiver Technology (ART) package, bringing the benefit of Receive Diversity and Receive Equalization. Both are essential for getting maximum performance in today´s hostile radio environment.

Optionally, the GlobeTrotter Express HSUPA can be supplied with our compact GlobeTrotter Ex Converter ensuring compatibility and peak performance for laptops equipped with a Cardbus interface. The GlobeTrotter Express HSUPA uses Option´s Zero-CDTM technology.
Applications, manuals and drivers are distributed and installed immediately the GlobeTrotter Express HSUPA is inserted for the first time. There is no need for a CD or bulky printed book, GlobeTrotter Express HSUPA is a truly unique Plug ´n Play solution.

Download Option Express HSUPA brochure here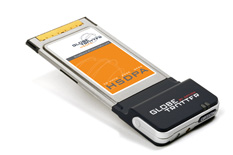 GlobeTrotter HSDPA 1.8
Support: HSDPA 1.8 + 3G + Edge + GPRS
Mobile Highspeed Surfing via PCMCIA Card
FEATURES
- Multimode HSDPA/UMTS/EDGE/GPRS/GSM card
- Provides HSDPA and UMTS High-speed data (up to 1.8 Mbps) connectivity for mobile users
- Provides EDGE/GPRS/GSM data (up to 247 kbps) connectivity
- Transparent handover between UMTS and GSM/EDGE networks
- Compatible with nearly all popular notebook PCs equipped with Type II PC card slot and Microsoft Windows operating system
- Securely access corporate resources with its transparent support for IPSec and VPN technology.
- PCSC-driver for EAP-SIM and other 3-party applications in need of a Smart Card Interface.
- Supports third party applications that provide Video Telephony (3GPP 3G-324M, H.324, H264 Baseline Video), SIP, SMS, IM, MMS, Internet and Email.
- Comprehensively tested on infrastructures and network worldwide.
- GlobeTrotter Mobility Manager application (Connections manager and SMS centre).
- Future proofing through Flash Memory technology
Download Option Globetrotter HSDPA 1.8 brochure here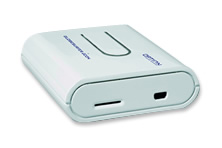 GlobeSurfer ICON HSDPA 1.8
Support: HSDPA 1.8 + 3G + Edge + GPRS
Mobile Highspeed Surfing via USB
FEATURES
- Plug 'n' Play zero configuration. Auto-installed drivers and connect tool (for MS Windows)
- Powered via USB interface
- Multimode HSDPA/UMTS/EDGE/GPRS/GSM USB access device
- Provides HSDPA and UMTS High-speed data (up to 1.8 Mbps)
- Provides EDGE/GPRS/GSM data (up to 247 kbps) connectivity
- Transparent handover between UMTS and GSM/EDGE networks
- Compatible with nearly all modern Desktop and laptop PCs equipped with Microsoft Windows
- Securely access corporate resources with its transparent support for IPSec and VPN technology
- Supports third party applications that provide Video Telephony (3GPP 3G-324M, H.324, H264 Baseline Video), SIP, SMS, IM, MMS,
Internet and Email.
- Comprehensively tested on infrastructures and networks worldwide.
- Future proofing through Flash Memory technology
Download Option Globe Surfer ICON HSDPA 1.8 brochure here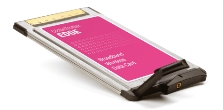 GlobeTrotter Edge
Support: Edge + GPRS
Mobile Highspeed Surfing via PCMCIA Card
Features
- Quad-band radio card suitable for use on EDGE/GPRS/GSM networks worldwide
- EDGE 236.8 Kbps high-speed data performance, GPRS/GSM data speeds to 85.6 Kbps (Network dependent)
- PTCRB (1900/850), GCF (900/1800) compliant
- Compatible with most notebooks and PDA?s providing a Type II PC-Card slot and utilising Microsoft - WindowsTM Operating Systems
- Supports IPSec client software for end-to-end secure corporate data exchange and synchronisation over VPN

Download Option Globe Trotter EDGE brochure here